Regalis Bulgarian Classic Black Osetra Caviar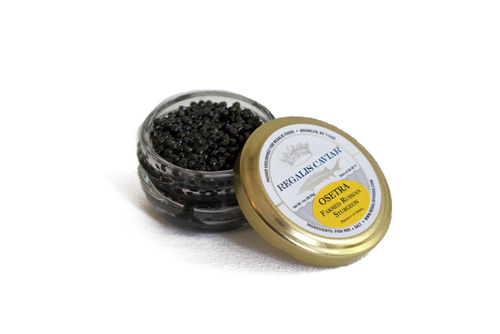 Regalis Bulgarian Classic Black Osetra Caviar
Flavor Notes: Large grain in size with a unique two-toned amber gold color, this Russian Osetra is rich with a clean taste and a full, creamy finish. Truly unlike any other farmed caviar, its signature nutty flavor profile has a similar finish and grain size to wild Osetra caviar.
Species: Russian Sturgeon-Acipenser Gueldenstaedtii
Origin: Farmed, Vidin, Bulgaria (EU)
Appearance: Medium grain size with a unique, two-tone, amber black color
Texture: Delicate surface that melts on your palate
Packaging Options: 1oz, 2oz, 4oz, 8oz, 16oz, 1 Kilo formats. Vacuum sealed jars or tins.